ISLAMABAD: Pemra has today suspended the license of Bol News for a month and imposed a  Rs. 1m fine as punishment for airing remarks against LHC judges.  
It is pertinent to mention her that on 13th day of January Pemra had issued a show-cause notice to Messrs. Labbaik Pvt. Ltd/Bol News over Tajzia, a program hosted by Sami Ibrahim.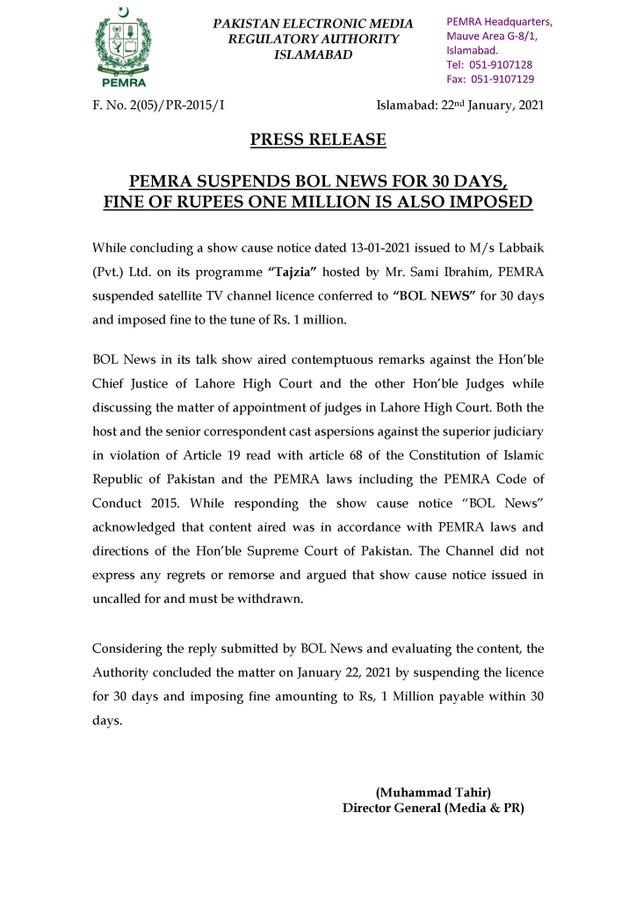 According to details, while pondering over the issue of the appointment of judges Bol channel "aired contemptuous remarks against the CJ and other judges of LHC casting cast aspersions against the superior judiciary in violation of Article 19 read with Article 68 of the Constitution and the Pemra laws including the Pemra Code of Conduct, 2015."
Pemra further stated that the channel did not express any regrets or remorse and argued that the show-cause notice was uncalled for and must be withdrawn.
Newspakistan.tv | YouTube Channel