Karachi: Confreres support alleged killers of 2-year old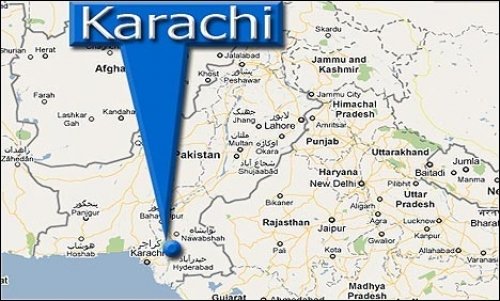 KARACHI: Two-year-old Ahsan, killed during a reported exchange of firing between police and alleged muggers at University Road yesterday (16th of April), was buried at a graveyard here today.
Inspector General of Police (Sindh IGP), Dr. Syed Kaleem Imam, taking notice of the incident, had directed immediate investigation and suspension those involved in the incident. Talking to NPTV Additional Inspector General Police Dr. Amir Ahmed Shaikh has informed that four cops who were present at the chowki have been suspended and Government weapons have been taken back from them. The maternal grandfather of the deceased child lamented that they were asked to appear and sign papers (FIR) at Police Station.
Supporting their confreres, instead of naming the Policemen involved, some unidentified people have been mentioned in the FIR.  The funeral prayers, offered in Gulistan-e-Jauhar, were attended by his family members as well as representatives of different political parties. According to details the deceased child Mohammad Ahsan Shaikh, traveling in a rickshaw with his parents, succumbed to a bullet injury as the shot directed at alleged criminals hit him during rush hours at a thoroughfare around Pehelwan Goth off University Road.
A relevant piece published earlier: 
Karachi: 2-year-old child killed as incompetent Police fire at muggers! 
Sri Lanka Easter Massacre toll rises to 310
COLOMBO: Police spokesman here told NPTV that Easter bombings death toll has risen to 310, while five hundred got injured. 
President of Sri Lanka has given army war-time powers enabling them to arrest suspects.  It is pertinent to mention here that the forces used such authority throughout the 26-year-long civil war that ended in 2009.
It is pertinent to mention here that despite the arrest of forty suspects (including the driver of a van allegedly used by suicide bombers), an IED was found inside a vehicle near St. Anthony's Church, here at Jampettah Road, Kochchikade yesterday (Monday 22nd April). It was disposed of by BDU via controlled explosion. 
A relevant piece published earlier:
.
Sri Lanka bomb attack victims: Pak NA observes 1-minute silence
ISLAMABAD: The members of National Assembly on Monday during the session at the Parliament House observed one-minute silence in memory of the citizens of Sri Lanka who lost their lives in bomb attacks.
The house also offered fateha for the departed souls of those who were martyred in two separate attacks in different parts of Balochistan recently.
Later, Speaker National Assembly announced a six-member panel of chairpersons for conducting the proceedings of the house in the absence of Speaker and Deputy Speaker.
The Speaker named MNAs Tahir Sadiq, Jaffer Khan Leghari, Khurram Dastgir, Attaullah, Naveed Qamar and Asad Mehmood as members of the panel who would chair the proceedings of the House when the Speaker and Deputy Speaker would not be present in the house.
The Speaker announced the members for the panel according to section 13(1) of the Rules of Procedure and Conduct of Business of National Assembly 2007.
app
Sri Lanka Govt.. declares state of emergency
COLOMBO: Sri Lankan authorities have ordered a state of emergency to be introduced from midnight Monday following the deadly Easter attacks, the president's office said.
The special measures are being brought in "to allow the police and the three forces to ensure public security," the statement said, referring to the army, navy and air force.