Netanyahu says Israel is Arabs' 'ally' against Iran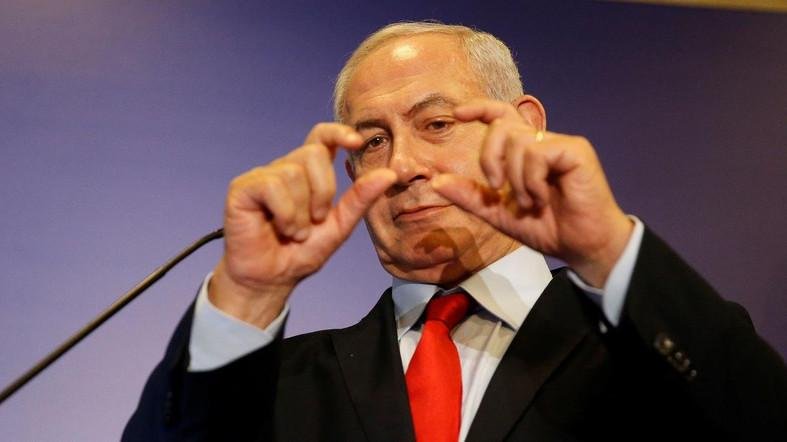 RIO DE JANEIRO: Prime Minister Benjamin Netanyahu said Monday that Arab countries viewed Israel as an "indispensable ally" fighting Iran and the Islamic State group.
That evaluation has caused "a revolution in relations with the Arab world."
The comments came as Israel has stepped up air strikes on Iranian positions in neighboring Syria, and as Israel digested an abrupt decision by President Donald Trump to withdraw US troops from Syria.
Netanyahu has repeatedly warned that Iran is trying to develop nuclear weapons to destroy his country.
Israel, he said, had shown itself to be active in battling "radical Islam, violent Islam — either the one led by radical Shiites led by Iran, or the one led by the radical Sunnis led by Daesh (IS) and Al-Qaeda."
"Unfortunately we have not made any advance with the Palestinians. Half of them are already under the gun of Iran and of radical Islam," Netanyahu added.
Asked if he could ever contemplate sitting down with an Iranian leader to talk peace, Netanyahu replied: "If Iran remains committed to our destruction the answer is no."
The only way, he said, would be "if Iran undergoes a total transformation."
Netanyahu was in Brazil to attend Tuesday's inauguration of the Latin American country's new, pro-Israel president, Jair Bolsonaro.
On the sidelines of the ceremony, Netanyahu was to hold talks with US Secretary of State Mike Pompeo, who is also among the visiting dignitaries.
They were expected to discuss the US troop pullout from Syria and Iranian activities in the Middle East.
app
Is Uber buying Careem for $3.1b?
DUBAI: According to the rumors making rounds here today it seems that Uber is about to acquire Careem for $3.1b!
Sources privy to NPTV have insinuated that the deal will be announced tomorrow (Tuesday 26th March). Initially Uber will pay $1.4 billion in cash and the rest in notes convertible to Uber shares.
It comes as Uber prepares for its initial public offering — expected next month — which could see the rideshare giant's value increase to $100 billion.
British Shadow Justice Minister on climate change
BRADFORD: Climate/ecological change is one of the biggest challenges that humanity faces in the modern era. 
British Shadow Minister  Imran Hussain maintains: "With disaster awaiting if we do not make substantial changes to the way that we live our lives, and I was visited recently by school children from Bradford who came to talk to me about their campaign against climate change.
"It's always positive to see young people get involved in a deeply important issue, and their actions should serve as a wakeup call to the Government that their views must no longer be ignored.
"They are also right to be worried about the kind of planet they will inherit and demand far-reaching action, for if we do not act over the next 12 years, we will forever miss the opportunity to do anything about it."
Egypt-Israel peace treaty lives on in troubled region
CAIRO: The US-mediated 1979 treaty between Egypt and Israel may only have resulted in a "cold peace" but their ties have survived four decades in a turbulent region, analysts say.
The watershed treaty brought together late Egyptian president Anwar Sadat and Israeli premier Menachem Begin for a 26th March, 1979 signing ceremony in Washington as a beaming Jimmy Carter, then-US president, looked on. The peace deal, the first ever between Israel and an Arab state, and which cost Sadat his life at the hands of an Islamist extremist, has kept Cairo out of any armed conflict with its neighbour.
The treaty has emerged unscathed from upheavals in Egypt, notably the 2011 revolution that toppled longtime ruler Hosni Mubarak, proving its "stability", said Amr al-Shobaki, political analyst with the Ahram Center for Political and Strategic Studies. The 40th anniversary comes as armed conflicts roil several countries across the Arab world, from Libya in the far west to Yemen in the south.  It also comes at a time of major US policy changes.
In 2017, President Donald Trump's administration recognised the disputed city of Jerusalem as Israel's capital, causing uproar in the Muslim world. He followed up on Friday with a pledge to recognise Israel's annexation of the Golan Heights. Israel seized mainly Palestinian east Jerusalem, Syria's Golan and Egypt's Sinai Peninsula in the 1967 Six-Day War, when it also occupied the West Bank and Gaza. But under the 1979 peace treaty, Israel returned the Sinai to former enemy Egypt.