Osaka's poor attitude cost her Brisbane semi-final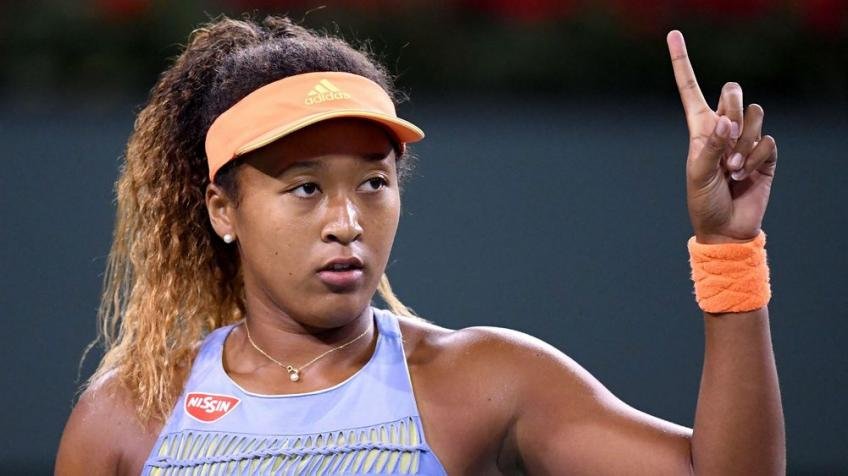 BRISBANE: Reigning US Open champion Naomi Osaka said her poor attitude cost her during her 6-2, 6-4 loss to Lesia Tsurenko in Saturday's Brisbane International semi-finals.
Osaka went into the match as a firm favorite but looked flat from the outset as Tsurenko raced through the match in just 65 minutes. The Japanese star, who burst to prominence with her eventful US Open final win over Serena Williams, made 26 unforced errors and was broken three times in a disappointing display. She said after the match that she didn't know how to cope once things started to go against her. "If I'm being really frank, I just feel like I had the worst attitude today," she said. "I feel like I didn't really know how to cope with not playing well."I was sulking a little bit, and like there are moments that I tried not to do that, but then the ball wouldn't go in, and then I would go back to being, like, childish and stuff.
"I feel like last year I did a lot of that," she added. "I'm trying to change it more, and I think I have." But Osaka said Saturday's loss was probably a better learning experience than if she had made the final. "I think today I learned… what I can do to improve the situation," she said. The 29-year-old Tsurenko, who will now rise to a career-high world ranking of 24, said she had adopted a new game plan during the off-season. "I feel better with my serve and that I am moving well," she said. "I feel more strongly now, so I can kind of handle every kind of pressure on the court, even when someone like Naomi is playing really strong. "I can really stay there and I can be aggressive also." Tsurenko will play either fifth-seeded Czech Karolina Pliskova or Croatia's Donna Vekic in Sunday's final.
PCB regrets Durban incident
LAHORE: The Pakistan Cricket Board (PCB) has expressed regret over the remark made by Pakistan captain Sarfaraz Ahmed and picked up by the stump mic during the second ODI against South Africa in Durban.
The PCB neither endorses nor supports any comments that have the potential to cause offense, and firmly reiterates their zero-tolerance approach towards racist comments made; in whatever context, said a spokesman of the PCB here on Wednesday night. "This incident has also highlighted the importance and significance of player education and training at all levels. The PCB endeavors to improve their player education programmes to ensure these types of incidents do not happen again," he said.
"Sarfaraz is one of the most respected cricketers in the world. However, captaining Pakistan is a massive honor and any hurtful remarks by any cricketer, let alone the captain, is not acceptable to the PCB," he added. The spokesman said, "The PCB is confident that this incident will not affect the series, which has been played in great spirit with some excellent performances from both sides. The PCB is also hopeful that the crowds will continue to turn up in big numbers for the remaining matches to support cricket."
PSL: Haier joins Peshawar Zalmi as Main Title Sponsor
LAHORE: Peshawar Zalmi and Haier Pakistan have signed a MoU for Main Title Sponsorship for Peshawar Zalmi for the 4th Edition of Pakistan Super League being played from February 14 in UAE and Pakistan.
Pakistan Super League's most valued franchise in terms of Media and Brand, Peshawar Zalmi signed the MoU at an impressive ceremony. Chairman Peshawar Zalmi, Javed Afridi and Haier Pakistan Senior Director Li Da Peng signed the MoU here on Wednesday. Also present were Peshawar Zalmi players Kamran Akmal and Umaid Asif. Javed Afridi and Li Da Peng expressed their happiness on the signing and said that Partnership between Haier Pakistan and Peshawar Zalmi will strengthen in future and it will benefit Pakistan Cricket too along Peshawar Zalmi. Javed Afridi said that Haier Pakistan did a great part in past in promotion of Cricket in Pakistan and he is grateful for their tremendous support for Pakistan Sports and Peshawar Zalmi.
Li Da Peng highlighted the efforts of his organization for the uplift of cricket in Pakistan and expressed the hope that with the efforts of Peshawar Zalmi cricket will gain rapid promotion in China as well. "Besides being Pakistan's number one brand in electronics, Haier is actively involved in sports-related activities and we are gaining rapid success in the field of electronics and sports," he asserted. Javed Afridi said he has a multi-dimensional vision which focuses on generating more and more cricket activities from the platform of Peshawar Zalmi besides speeding up efforts to play due role in the fields of education and sports. "We are doing it for our country and to contribute in the national duty, we are not just focusing on cricket only we are lending support to hockey which is our national sports and needs immediate attention for its revival," he said.
Javed Afridi called upon the need for introducing a transparent system in Pakistan Hockey Federation to ensure that funds being provided to them were being spent in the right direction purely on the development of the game. "We will soon reveal our ambitious plan to spend resources in the field of education and health as they are the two most neglected fields in the country and the future of our country heavily depends on improvement and progress of these fields ", he said. He said star-studded Peshawar Zalmi will perform to a higher level in the Pakistan Super League and its players will live up to the expectations by giving their best form and performance in the mega event. Kamran Akmal and Umaid Asif also spokesman on the occasion and reiterated their pledge to support Peshawar Zalmi by putting up their best in the PSL.
Mr Li Da Peng of Haier and Javed Afridi of Peshawar Zalmi expressed their happiness on this big event #HaierZalmiPartnership pic.twitter.com/S6Sh4uUvD2

— سَــــــرپھِـــــری (@Sarphireee) January 23, 2019
Fans baffled as Liverpool star Mohamed Salah goes offline
CAIRO: Fans were left baffled on Wednesday after Liverpool's star Egyptian striker Mohamed Salah appeared to have deleted all of his social media accounts where his followers number in the millions.
The Facebook, Instagram and Twitter accounts of Salah, who is idolised in Egypt and Liverpool, went offline without warning a day after he posted a cryptic tweet.
"2019 Resolution: Time to get in touch, for real," said the final tweet, screenshots of which were shared widely on social media.
Those navigating to his Twitter account on Wednesday could only see a message reading "Sorry, that page doesn't exist!".
On Instagram, the message read "The link you followed may be broken, or the page may have been removed." A similar message appeared on Facebook.
It was not immediately clear whether the shutdowns were deliberate.