Osaka's poor attitude cost her Brisbane semi-final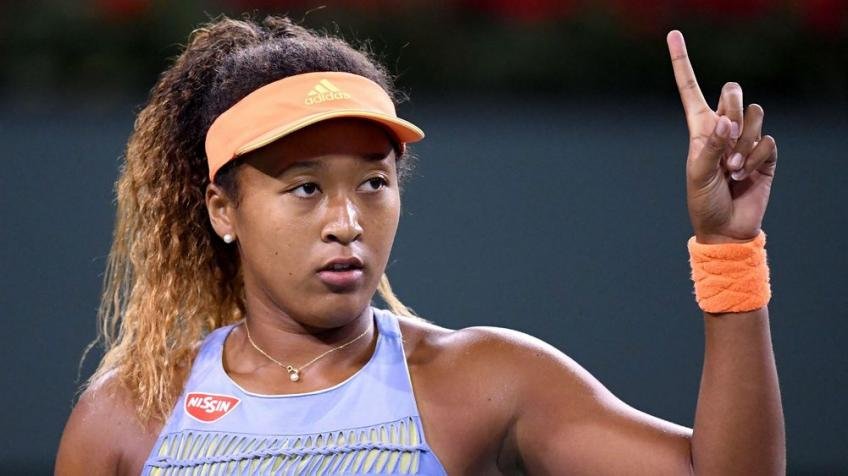 BRISBANE: Reigning US Open champion Naomi Osaka said her poor attitude cost her during her 6-2, 6-4 loss to Lesia Tsurenko in Saturday's Brisbane International semi-finals.
Osaka went into the match as a firm favorite but looked flat from the outset as Tsurenko raced through the match in just 65 minutes. The Japanese star, who burst to prominence with her eventful US Open final win over Serena Williams, made 26 unforced errors and was broken three times in a disappointing display. She said after the match that she didn't know how to cope once things started to go against her. "If I'm being really frank, I just feel like I had the worst attitude today," she said. "I feel like I didn't really know how to cope with not playing well."I was sulking a little bit, and like there are moments that I tried not to do that, but then the ball wouldn't go in, and then I would go back to being, like, childish and stuff.
"I feel like last year I did a lot of that," she added. "I'm trying to change it more, and I think I have." But Osaka said Saturday's loss was probably a better learning experience than if she had made the final. "I think today I learned… what I can do to improve the situation," she said. The 29-year-old Tsurenko, who will now rise to a career-high world ranking of 24, said she had adopted a new game plan during the off-season. "I feel better with my serve and that I am moving well," she said. "I feel more strongly now, so I can kind of handle every kind of pressure on the court, even when someone like Naomi is playing really strong. "I can really stay there and I can be aggressive also." Tsurenko will play either fifth-seeded Czech Karolina Pliskova or Croatia's Donna Vekic in Sunday's final.
Cricket World Cup: Green Shirts must improve fielding!
LAHORE: Pakistan cricket team would have to look into it's darkest area which is poor fielding, before going into the crunch match of the World Cup against New Zealand on Wednesday at Edgbaston, England.
An uphill task yet to be achieved by Pak team is to strike a victory against Kiwis in the coming match, and win the games against Afghanistan as well as Bangladesh in order to remain in contention for the semi-final qualifications.
Even the success in the coming three matches does not guarantee the green shirts a ticket to the semi-final as it also heavily depends on how the top notch of the World Cup would perform in their remaining matches.
A victory against South Africa, their second in the grand event in England, has pumped up confidence in the Pak team and they seem ready to take on Kiwis challenge in a decent manner and to go all out for a success by showcasing collective efforts,but lax fielding stills remains a worry for the Pak team as it dropped seven catches of South African player but still managed to win, thanks to a master and steady knock by Haris Sohail.
Pakistan team has been left with no choice but not to repeat lapses in fielding, especially in catches when it takes the field against Kiwis.
The sour reality of poor fielding of Pak team and dropping of catches by different players has helped the New Zealanders to establish the status of favorites in the pre-match ratings. According to the pundits of the game, Kiwis have 58 percent of success compared to Pakistan's 42 percent in tomorrow's, Wednesday match of the Cup at Agbadastan ground where the match will start at 2.30 pm (PST).
Because of its superb run, New Zealanders are at the top of the points table with eleven points. Kiwis have so far played six matches, winning five games and one match failed to produce any result.
Pak team is among the bottom teams at the table at seventh place which portrays green shirts' not up to the mark performance in the elite event. Pak team won two matches, lost three as one math failed to produce any result (washed out), out of total six encounters played so far. The greens shirts have five points.
Display of aggressive cricket with precision and responsibility can lead Pak team to success New Zealand in a challenging encounter. Pakistan team has been caught in a difficult situation for their hunt to finish among the top fours teams as semi-finalists.
The ranking difference between Kiwis and Pakistan widely suggests the superiority of the New Zealand team which is the number one team in one-day matches, whereas Pakistan is at a low six number position.
If Pakistan team manages to upset the world number one Kiwis side, then they will be facing Afghanistan challenge on June 29 followed by Bangladesh encounter on July 5 and they have to play all these matches with a do or die approach for achieving desired results.
app
'Alive and kicking' – Pakistan eye unlikely World Cup survival
LONDON: Pakistan find themselves "alive and kicking" in the World Cup despite a disastrous start as coach Mickey Arthur warned his unpredictable team were still gunning for the semi-finals.
The 1992 champions were on the brink of elimination after losing three of their first five games, including a bruising defeat to arch-rivals India.
But Sunday's 49-run win over South Africa has kept alive Pakistan's chances of qualifying for the last four.
They now need to win their remaining three matches against New Zealand, Afghanistan and Bangladesh, and hope other results go their way.
New Zealand are top of the 10-team table ahead of Australia, India and England, followed by Sri Lanka, Bangladesh with Pakistan in seventh place.
However, England, smarting from their upset against Sri Lanka, will be out of the running for the last four if they lose their remaining three games against Australia, India and New Zealand.
Even table-toppers New Zealand can lose their last three and not qualify — a scenario that is giving Pakistan hope.
""We are alive and kicking, without a doubt," said Arthur. "Yes, we are banking on other teams doing us a favour. It probably is — but we've got to win three games."
Arthur said Pakistan, who stunned England earlier in the tournament, can beat any team if they play to their potential.
"When we play our best game, we can beat anybody. Whether that's New Zealand, Afghanistan, Bangladesh, our remaining games, or England, we showed.
"We put our three disciplines together, we are as good as any team in this competition. We are very firmly in the World Cup. We win our next three games, we'll qualify."
Arthur said his players came out fighting after their defeat to India in Manchester last week.
"Our boys hurt, all of us hurt, incredibly. Guys didn't sleep much, but they came to the training every day and put in (hard work) in order to try and turn it around, and we got some just reward against South Africa."
Pakistan still need to hugely improve their sloppy fielding, dropping as many as five catches against South Africa — three of them by Mohammad Amir.
"Our problem is we haven't put three disciplines together yet in any game," said Arthur whose team scored 308-7 against South Africa before restricting them to 259-9.
"We bowled well; we batted well; we didn't field well (against South Africa). So when we put three disciplines together, we'll be exceptional.
"The closest we've got was when we beat England."
Underlining Pakistan's mercurial nature, the 14-run win over top-ranked England followed their seven-wicket defeat against the West Indies, when they were shot out for 105 in their opening game.
app
England's World Cup nerve faces Australia test
LONDON: Are England just a bunch of "flat-track bullies"? That's the uncomfortable question facing Eoin Morgan's side as they look to get their World Cup campaign back on track against arch-rivals Australia.
Tuesday's match at Lord's was always going to be a showpiece occasion, but it has been given added spice by England's 20-run loss to Sri Lanka.
Faced with a relatively modest target of 233 on a tricky Headingley pitch, England slumped to 212 all out.
Despite their second defeat of the pool phase following an earlier loss to Pakistan, the tournament hosts remained in the top four and on course for a semi-final spot.
But England, bidding to win the World Cup for the first time, cannot afford many more slip-ups in their remaining pool fixtures against fellow title contenders Australia, India and New Zealand — teams they have not defeated at a World Cup since 1992.
England's rise to the top of the one-day international rankings since their woeful first-round exit at the 2015 World Cup has been based on aggressive batting.
They have twice posted a world record score at this level in the intervening four years, including the current mark of 481-6 against Australia at Trent Bridge just over 12 months ago.
app
News Pakistan TV, one of Pakistan's leading multimedia news providers including latest and featured stories, offers exclusive information 24/7 regarding web-only content/ information based on insights and opinions. We also offer multimedia projects gathered by our trusted and dedicated correspondents.