Proposed regulatory body on IT education to help improve standard: Khalid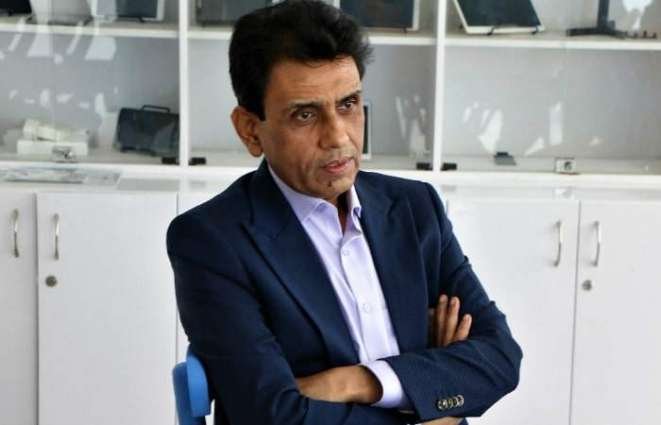 ISLAMABAD: Minister for Information Technology and Telecommunications, Dr Khalid Maqbool Siddiqui Monday said the proposed Regulatory Body on IT education would help improve standard and create more employment opportunities.
"We need to keep our pace with world to end unemployment. Improve our IT education standard as more than 25,000 IT graduates are being produced each year but only a few thousands get job in market," he said this while talking to media persons at Huawei Pakistan Mobile Summit-2019 here.
Khalid Maqbool said the government was trying to produce the best IT graduates and in this regard a comprehensive policy in consultation with the universities would be introduced.
He said it is the technology and quality education which have helped in minimizing poverty.
Dr Khalid Maqbool said many countries in the region have gone far beyond in area of IT education and added it is very important to determine correct direction.
"Our main task is to assist all ministries in field of IT. We need to encourage those Pakistanis who achieved excellence while working abroad," he added.
Replying to a question, he said Ministry of IT was trying that every Pakistani could benefit from broadband and mobile phones.
app
Aussie court rules media companies liable for Facebook comments
SYDNEY: Media companies are responsible for defamatory comments made on their Facebook pages, an Australian court said in a landmark ruling Monday.
The New South Wales Supreme Court ruled that three media companies were responsible for user comments on a story about an indigenous youth detainee, Dylan Voller, in 2016 and 2017.
Voller claimed that publishers of the Sydney Morning Herald, The Australian and Sky News were responsible for comments on their public Facebook pages — alleging he was a rapist and that he attacked a Salvation Army officer leaving the man blind in one eye.
His lawyers said the comments were defamatory.
Voller had been held in a youth detention in the Northern Territories, and videos of him being mistreated by staff prompted a Royal Commission inquiry in 2016.
Lawyers for the media companies argued they could not be expected to filter the hundreds and thousands of comments posted on their Facebook pages day and night.
But, acknowledging the ruling related to an "emerging area" of law, the court found that the media companies could have screened or blocked defamatory comments.
The court considered cases from New Zealand to Hong Kong, and ultimately determined companies should pay costs and potential damages, but left the door open for appeal.
It did not rule on whether the comments themselves were defamatory.
The case raises questions about laws governing Facebook and other social media sites, notably, whether Australia's already stringent defamation laws — which strongly favour those claiming defamation — have become even tougher.
"It could have far-reaching implications for media organisations using Facebook as a platform," said lawyers at Addisons in a legal briefing paper.
If the final ruling goes against media companies, they "will need to monitor and remove any defamatory comments on their posts".
The chief political correspondent at Nine — a television channel which now owns the Sydney Morning Herald — expressed unease at the "appalling trajectory of defamation law in Australia", which he said represented a "real and present danger to journalism".
app
Governments must regulate social networks: Facebook's Clegg
LONDON: Governments must regulate social networks and not the companies themselves, Facebook's head of global affairs and a former deputy prime minister of the UK said in an interview Monday.
"It's not for private companies, however big or small, to come up with those rules. It is for democratic politicians in the democratic world to do so," Clegg said.
Clegg, the former leader of UK political party the Liberal Democrats, said there was a "pressing need" for new "rules of the road" on issues including data privacy and election rules.
At the same time, companies such as Facebook should play a "mature role" in advocating regulation, he said.
Britain has said it will make social media bosses personally liable for harmful content and shut down offending platforms under a "world-leading" government plan.
Coming in for heavy criticism over the past year, Facebook has instituted changes, particularly on privacy and the transparency of political campaign ads.
Facebook chief Mark Zuckerberg has called for "globally harmonised" online regulation.
Sceptics say Facebook is seeking to buy time amid calls for tougher regulation in the United States and elsewhere — with some calls to break up major tech firms and other activists questioning whether they should maintain immunity from liability for content posted by users.
app
US blocks more Chinese tech firms on national security concerns
WASHINGTON: The US Commerce Department blacklisted five Chinese tech entities Friday in a new move against Beijing's supercomputing industry likely to raise tensions ahead of a meeting between President Trump and Xi Jinping next week.
The notice targets Sugon — a prominent Chinese supercomputer manufacturer — along with three of its microchip subsidiaries and a computing institute owned by the People's Liberation Army.
All of the entities will be effectively barred from obtaining US technology after the government determined they were "acting contrary to the national security or foreign policy interests of the United States."
Trade tensions between the world's top two economies have spilled over into the tech sector in recent months, with Trump's administration moving to essentially ban Chinese tech firm Huawei from the huge US market on security grounds.
In May, it added Huawei to an "entity list" of companies barred from receiving US-made components without permission from Washington, though the company was granted a 90-day reprieve.
Facebook and Google have since both announced they will move to cut off Huawei in order to comply with the US sanctions, further isolating the Chinese tech giant.
Beijing has responded with threats to release its own blacklist of "unreliable" foreign companies and individuals that appears aimed at pressuring foreign companies to maintain commercial relations with Huawei.
Earlier this month, Beijing summoned executives from American firms Dell and Microsoft and South Korea's Samsung, among others, to warn them that any moves to ramp down their businesses in China may lead to retaliation, The New York Times reported.
Trump and his Chinese counterpart Xi are set to meet next week on the sidelines of the G20 summit in Japan.
app
News Pakistan TV, one of Pakistan's leading multimedia news providers including latest and featured stories, offers exclusive information 24/7 regarding web-only content/ information based on insights and opinions. We also offer multimedia projects gathered by our trusted and dedicated correspondents.