ISLAMABAD: Slain International Islamic University Islamabad (IIUI)  student, Syed Tufail-ur-Rehman who hailed from Ghizer Ishkoman area of GB, was laid to rest today. It has been insinuated by sources that the attackers were members of Seraiki Student Organisation. 
Earlier Police maintained in First Information Report, registered at the Sabzi Mandi here today,  registered on the complaint of a student, Fahad Khan, at the university under Section 302 (premeditated murder), 324 (attempt to murder), 148 (rioting, armed with deadly weapon) and 149 (every member of unlawful assembly guilty of offence committed in prosecution of common object) of PPC.
Police sources informed NPTV that following yesterday's skirmishes 16 students had been arrested. Despite a combing operation of hostels no weapons were discovered.
Fahad Khan, while describing the incidence, stated that around 8.40PM when speeches were being delivered at an event Mega Educational Expo  organised by Jamiat-e-Tulaba-e-Islam a number of people brandishing firearms, glass bottles, iron rods, sharp tools, sticks and rocks attacked them.
According to the complainant, two people sustained bullet wounds while at least one person was hit by iron rod on his head. He further reported that the suspects continued to attack the participants of the Expo and injured a number of them.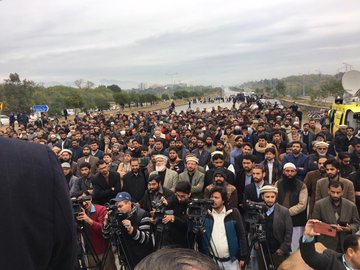 It is pertinent to mention here that one union opposed an event planned by other union. In the evening, one group attacked and injured two students of the opponents. Later at night, associates of the injured students retaliated.
A relevant piece published earlier: 
Int'l Islamic University Firing: One pupil killed, 31 wounded
ISLAMABAD: One pupil (identified as Tufail-ur-Rehman from Ghizer Ishkoman area of GB) was killed while over thirty others (including  Amanullah, Abbas, Faisal Iqbal, Jamal Cheema, Maaz Saeed, Noman Zaman, Obaid Munawar, Ali Ghori, Saqib Shah) got wounded when members of two unions opened fire and pelted stones at each other on Thursday night (12th of December, 2019)  at International Islamic University (IIUI) following a brawl during the closing ceremony of Students' Education Expo organised by Islami Jamiat-e-Tulba. 
According to sources the members of the rival union entered the venue and opened fire at 9.30 PM when  Jamat-e-Islami (JI) Naib-Ameer Liaquat Baloch was addressing the event. Following this members of both the party resorted to throw stones at each other. A brick struck Syed Tufail who succumbed to injury. 
Islami Jamiat-e-Tulba-e-Islam (Jamiat) is the student wing of Jama'at-e-Islami. Though it was founded by Abul A'la Maududi back in 1947, during the Soviet invasion of Afghanistan it is widely accused of introducing Kalashnikov culture in the Karachi University Campus.
The Deputy Commissioner took to the Twitter to state: "There was a clash between 2 student bodies in a University. Unfortunately one student died because of the skirmish.
"We have taken over the security. Police and Magistrates are on site. Rangers has been called. Compound is being searched. Anyone having info may plz call on 15."
The wounded are being treated at Pims, medical facility nearby. Para Military Rangers had been deployed to control the situation. University will remain closed tomorrow. 
Bill to revive student unions approved by Sindh Cabinet
KARACHI: Sindh Cabinet in a meeting chaired by CM Syed Murad Ali Shah has approved Sindh Students Union Act, 2019 facilitating "an effective system to provide for the establishment of students unions and regulating them in the province of Sindh".
It was agreed that there will be a student union in every educational institution consisting of bona fide students of that institution; The union will be made up of 7-11 members elected by the students of each university or college in polls to be held every year.
Within two months of the enactment of this law, each educational institution will formulate its own rules and procedures for the conduct of their student union; Every university or college will have at least one nominee of the elected student union in its syndicate, senate or board, according to the draft law.
The unions will work for maintaining social and academic welfare of the students; the unions will ensure the rights and interests of all students are suitably represented and protected; unions will organize such social, cultural, intellectual or other extra-curricular events which help in forming a student's personality and make them responsible citizens; unions will promote and strengthen relations between students and educational Institutions; unions will oppose and bring to light any discrimination or injustice that obstructs the social and academic life of students.
Unions will endeavor to make students responsible citizens, aware of their rights and obligations towards their country as provided under the Constitution; unions will play the role of a bridge between the students, the educational institution and its staff to further the objective of academic excellence; unions will coordinate and liaison with elected students bodies of different jurisdictions in the country; unions will assist the educational institution in maintaining discipline and ensure the respect of teachers as well as staff of the educational institution is not compromised;  unions will ensure democratic and inclusive atmosphere for healthy debate that respects others' opinions.
Following the countrywide marches by students demanding restoration of student unions Prime Minister Imran Khan had earlier expressed the resolve to establish a comprehensive and enforceable code of conduct enabling such bodies play their part in positively grooming the youth as future leaders of the country. Taking to Twitter Imran Khan held: "We will establish a comprehensive & enforceable code of conduct, learning from the best practices in internationally renowned universities, so that we can restore & enable student unions to play their part in positively grooming our youth as future leaders of the country…
"Universities groom future leaders of the country & student unions form an integral part of this grooming. Unfortunately, in Pakistan universities' student unions became violent battlegrounds & completely destroyed the intellectual atmosphere on campuses." PM maintained that code of conduct would be established by learning from the best practices in internationally renowned universities. Imran Khan held that universities groom future leaders of the country and student unions form an integral part of this grooming.
Unfortunately, in Pakistan universities' student unions became violent battlegrounds and completely destroyed the intellectual atmosphere on campuses. In Pakistan this student unions are extensions of political parties. Surprisingly, the mammoth  MQM commenced as a student organization known as All Pakistan Muthahida Mohajir Students Organization (APMSO).
In 1972 Imamia Students Organisation (ISO – representative of the shia community) was founded at Lahore's University of Engineering and Technology. ISO has been repeatedly accused of receiving funds from Iran but it negates the allegations. Peoples Students Federation (PSF) is meant to maintain Pakistan Peoples Party's presence in the campuses.Incumbent Pakistan Tehreek-e-Insaf too has a students's wing.
But  it has been noted that all student organizations happen to have a militant wing and in the past use of firearms was a norm resulting into death of students. The last such clash took place between two groups at Karachi University when they found out that their members did not get admissions. That resulted into deployment of Rangers in the campus and since then the para-military has become a permanent feature of the campus.
News Pakistan