Trump set for star turn in Netanyahu re-election campaign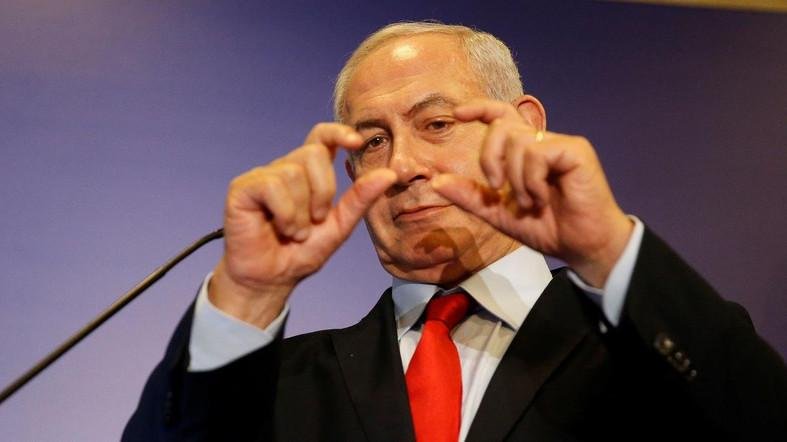 JERUSALEM: US President Donald Trump's role in Prime Minister Benjamin Netanyahu's electoral campaign gets its star turn this week when the two allies meet in Washington ahead of Israeli polls.
The billionaire president has already been featured on giant campaign billboards in Israel shaking hands and smiling with Netanyahu, and the premier has shared video of Trump calling him "strong" and a "winner". But Trump's support has gone far beyond photos and words as Netanyahu fights a tough re-election battle ahead of 9th April polls while under threat of indictment for corruption.
On Thursday, after new opinion polls showed Netanyahu losing ground to his electoral rivals, Trump took to his beloved Twitter account to present the Israeli leader with what many analysts saw as a campaign gift. Again breaking with longstanding international consensus, Trump said "it is time" to accept Israel's sovereignty over the Golan Heights, which it seized from Syria in the 1967 Six-Day War.
The tweet granted Netanyahu exactly what he had been pushing for without asking for anything in return, at least publicly. Netanyahu pronounced it a Purim "miracle" – referring to the Jewish holiday Israel was celebrating the same day — and phoned Trump to tell him he had "made history". But Trump said it had nothing to do with Israeli politics. "I wouldn't even know about that," he told Fox Business Network.
app
Removal of Asad Umar to have 'positive impacts' on economy: Bilawal
KARACHI: Pakistan People's Party Chairman Bilawal Bhutto Zardari has welcomed the government's decision for what he said removing Asad Umar as finance minister.
Speaking to the media here today, PPP chief expressed  the hope that  the decision would have positive impact on the economy.
He said the government has realized after eight months that its economic policies are flawed.
Imran should've tendered resignation instead of Asad Umar
ISLAMABAD: Hours after Asad Umar announced his resignation from the post of finance minister, opposition parties started to shower criticism on the Imran Khan-led PTI government.
In a statement, former information minister Marriyum Aurangzeb blamed the policies of Prime Minister Imran Khan for the economic mess that has been created.
"If PTI's and Asad Umar's policies were so good, and the problems were from PMLN government,then why was he [Umar] asked to step down," she questioned.
"This is an admission by IK that his polices have created an economic crisis in Pakistan. the real problem is not Asad. It is the PM," she further said tagging Pakistan Tehreek-e-Insaf twitter handle.
Brexit: Falklands' economy and Spanish fishermen threatened  
MADRID: A no-deal Brexit would deal a severe blow to the economy of Britain's Falkland Islands which is heavily dependent on squid exports — and to Galicia in Spain where almost all of the mollusks are sent.
Fully 94 percent of the catch, mostly squid, exported from the contested South Atlantic archipelago known to Argentina as the Malvinas and occupied by Britain since 1833, is sent to the port of Vigo in northwestern Spain, some 13,000 kilometers (8,000 miles) away.
There the processing of squid is carried out or shipped directly to other European nations. About a third of the squid eaten in continental Europe comes from the Falklands, according to the archipelago's government.
Fishing accounts for 40 percent of the economic output of the island group which was at the heart of the two-month war between Britain and Argentina in 1982. And Galician trawlers staffed mainly with Spaniards dominate the sector.
This trade is profitable because no customs tariffs are slapped on the squid since both Britain and Spain belong to the European Union — but that would end if Britain leaves the bloc without any agreements in place about what their relationship would be in the future.
In that case, World Trade Organization (WTO) custom tariff which ranges from six to 18 percent depending on the nature of the product would apply, according to Richard Hyslop, senior policy advisor to the Falkland Islands government.
"It's critical that we retain our tariff-free access (with the EU)," Teslyn Barkman, who is in charge of managing natural resources and Brexit related issues with the archipelago's government, told AFP by telephone, adding it was a "life or death" issue for the Falkland's economy.
app